Experience Kilometre Zero, the point where the Danube stops being a river in order to flow out into the Black Sea. Made a UNESCO World Heritage site, this is a place that couldn't originally exist. Over more than 5,000 square kilometres of Danube delta, you can see over 4,000 animal and 1,000 plant species. You glide slowly through an almost surrealistic landscape of inland lakes and reed islands, marshes and canals. Keep your eyes peeled, perhaps a pelican will fly past – anything is possible here. Here, the many enchanting towns in which you stop off almost become irrelevant. But so what – you have all the time in the world to discover everything exactly.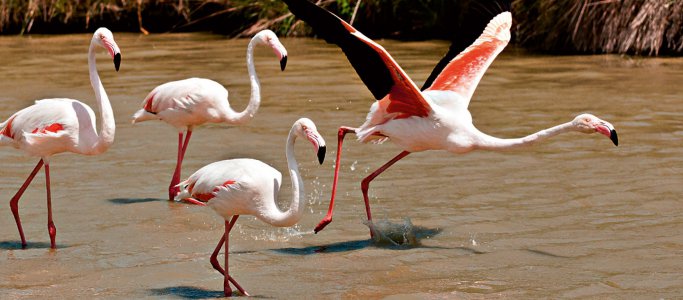 CHILD under 15 years old with at least one adult travels for FREE
Humming soft waltz melodies, you stand on the deck, your thoughts back in imperial Vienna. Suddenly, however, you hear the strains of wild Balkan violin music and the vibrating background noise of city hustle and bustle. The Danube, the queen of rivers, has carried you further along her course. Incredible panoramic landscapes and fascinating city views of Vienna, Budapest and Bucharest line up like pearls on a string. These views tell tales of Romans and emperors, wars and cosmopolitanism. Famous monasteries on the banks of the river show what faith in God has driven humans to achieve. The Baroque architecture in the streets of the Danube cities make Germany's historical apartment buildings seem positively spartan by comparison. But then all man-made creations reverently take a back seat, as it is nature's turn to shine: in the awe-inspiring "Iron Gates" of the Carpathian Mountains, for example, or the mysterious Danube Delta, a UNESCO World Heritage Site. Get ready for a true voyage to different worlds.
Vienna, the capital of Austria, is known as the city on the blue Danube, but today the main river is actually detached from the inner city and only the Danube Channel runs through the city. Vienna is still one of Europe's most seductive cities, however, and is worth a visit not just for its incomparable cultural treasures, the pomp and elegance of former glory, but also for its traditional coffee houses.
Slovakia's capital is situated exactly at the point where the country meets Austria and Hungary. This makes it the only capital city in the world that borders more than one neighbouring country. Due to its location, Bratislava has been an ethnic melting pot since ancient times. This influence can be seen in every corner of the city.
Budapest once consisted of three parts: Buda, Obuda and Pest. Buda meaning "oven" was the historical upper city with the castle. The part Obuda meaning "old oven" was the part between the hill and the Danube. And Pest on the left-hand side was where most of the population lived. In 1872, these three parts were combined to form a real centre.
Belgrade's troubled history is reflected in a rich and varied architectural legacy. In the past, the city has changed hands many times and has now been the capital of Serbia since 1992. At the heart of the city, the square of the Republic leads on to the pedestrian shopping area and also the so-called Skadarlija artists' quarter, both of which are definitely worth a visit.
Bucharest, the capital of Romania, fortunately has retained many fine buildings from better days despite the fact that Communist rule saw the erection of monstrosities, such as the gigantic House of the People, which is the second largest building in the world. The City Museum in the Sutu Palace presents the city's lively history in a comprehensive way.
Halftime. We approach the mouth of the Danube Delta - the Black Sea. Here, the Danube turns into a mighty river. A maze of lakes, marshes, sandbanks and wide meadows. Overwhelming!
Mist forms around the ship in Sulina. There! Pink flamingos are passing us. Dream or reality?
Carriage
We offer you a possibility to park at Globus Group - Parkservice in Engelhartszell. This parking centre is about 5 minutes drive far from the port. Transfer from parking to the port is included in a price.
Prices
parking without roof:
3 night - 42 EUR
4 night - 47 EUR
5 night - 52 EUR
7 night - 68 EUR
10 night - 83 EUR
11 night - 88 EUR
16 night - 114 EUR
parking with roof:
3 noci - 47 EUR
4 noci - 56 EUR
5 nocí - 62 EUR
7 nocí - 79 EUR
10 nocí - 96 EUR
11 nocí - 101 EUR
16 nocí - 127 EUR
Prices are for guidance and only valid for private cars.
Contacts to Globus Group - Parkservice
Address:
Nibelungenstraße 130
4090 Engelhartszell
Österreich
Phone: 0049 851 989 000 168
| | | | |
| --- | --- | --- | --- |
| Day | Place | Arrival | Departure |
| 1 | Engelhartszell (Passau) | - | 17:00 |
| 2 | Vienna | 13:00 | 20:00 |
| 3 | Budapest | 12:00 | 22:00 |
| 4 | Kalocsa | 07:00 | 09:00 |
| 4 | Mohács | 13:00 | 16:00 |
| 5 | Belgrade | 07:00 | 23:45 |
| 6 | Cruising Day | - | - |
| 7 | Rousse | 14:00 | - |
| 8 | Rousse | - | 01:00 |
| 8 | Oltenita (Bucharest) | 06:00 | 08:30 |
| 9 | Tulcea | 12:00 | 15:00 |
| 10 | Oltenita (Bucharest) | 16:00 | 17:00 |
| 10 | Giurgiu (Bucharest) | 21:00 | 22:00 |
| 11 | Cruising Day | - | - |
| 12 | Donji Milanovac | 09:00 | 14:00 |
| 13 | Novi Sad | 08:00 | 14:00 |
| 13 | Vukovar | 19:00 | 22:00 |
| 14 | Mohács | 06:00 | 09:00 |
| 15 | Bratislava | 16:00 | 19:00 |
| 16 | Melk | 13:30 | 16:00 |
| 17 | Engelhartszell (Passau) | 07:00 | - |
Click to show relevant prices. Displayed prices are for one person.
08.05.2022 - 24.05.2022
Price includes
PREMIUM - A-Rosa Select all inclusive
snack on the day of departure, rich buffet breakfast, lunch and dinner, drink package - more than 100 types of quality drinks of unlimited consumption, including alcoholic and non-alcoholic beverages (except selected brands), desserts, free use of most facilities on the ship (eg saunas, fitness centers, etc.), animation program, port and service fees, 15% discount on the use of the SPA center, transfer from the main train station to / from the ship (valid only in Germany) , WiFi, toiletries, bathrobe, water bottle / pers. / day, welcome gift and farewell gift, travel agency insurance against bankruptcy
Price does not include
transport to the place of embarkation, other optional trips, above-standard services on board (eg massages), travel insurance, personal expenses
Optional extra pay
extra pay for a single cabin is 40 %
A-ROSA FLORA, SILVA
The official language on board is German. These all written information are available also in English, and partly in Italian, Spanish and French on our international cruise ships.
In addition, excursions are offered in several languages. On board selected cruises the A-ROSA international host looks after the concerns of our international guests.
show more
Premium-Select all inclusive means ...
... the best way to travel.
Full board plus: Extensive breakfast, lunch and dinner
Free cabin selection: Choice of not only category but also cabin number
All-day drinks included: High-quality drinks throughout the day
Carefree arrival and departure: Transfer from / to the train station in the port city
Comfort: Spacious, modern rooms with toiletries
Stay connected while traveling: Free Wi-Fi
Children 15 years old and under travel for free!
Premium-Select all inclusive includes
Full board in the form of rich buffets
Beverage package (more than 100 types of alcoholic and non-alcoholic non-alcoholic beverages)
Small snacks during the day, occasional live cooking, midnight snacks, local and seasonal specialties
Early booking discounts
Children 15 years old or under accompanied by at least one supervising adult in same cabin travel free of charge (except Douro cruises)
Transfers from / to the station in the port city (valid for the Danube and Rhine)
WiFi connection
15% discount on SPA center treatments
1x change in booking
Free use of the on-board facilities such as sauna and fitness room
Bathroom amenities and bathrobe in the cabin
Possibility to buy served evening menus from 14.50 € / person
Selected last minute or special cruises can also be purchased in the Basic tariff. The Basic tariff only includes a buffet breakfast. Lunch and dinner can be purchased for 29 € / person. / night in case of ordering more than 7 days before departure. Less than 7 days before departure for the price of 39 € / person. / night, or 19 € / pers. / lunch and 29 € / pers. / dinner.