This trip is exactly the right thing for those with little time yet still wishing to experience all the highpoints. You become acquainted with three of Europe's most charming capital cities in just six days: Vienna, Budapest and Bratislava. Let the comfortable atmosphere of the East wind you down. Plus a little Viennese charm, as that never hurts. Budapest entices with its many sights just itching to be discovered by you. How about a trip to the Fishermen's Bastion, for instance? Not on foot, but on our own bicycles, which we're happy to provide! Then you'll experience Bratislava, still completely unknown to many. A majestic view over the town reveals itself to you on a visit to Bratislava Castle, and the city waits below for a saunter through ancient alleyways with a perfect synthesis of past and present.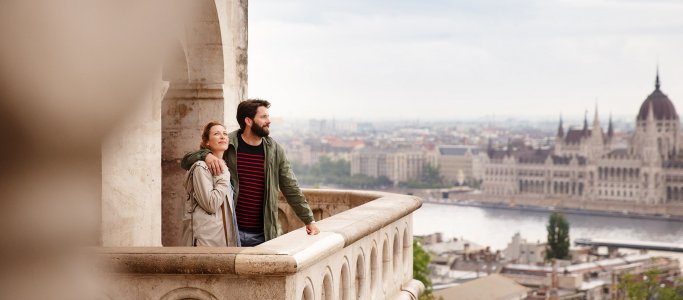 CHILD under 15 years old with at least one adult travels for FREE
People have celebrated the Danube in song, dedicated poems to it and written fairy tales about it. So when you are on the deck of the A-ROSA watching the wonders of nature and cities glide by, don't be surprised if you find yourself writing unusually grandiloquent postcards and text messages to your friends back home. This happens a lot. This trip will enable you to take home European history not only as a store of knowledge but also as a heartfelt sense of life. Vienna and Budapest, the former capitals of the Austro-Hungarian Empire, are positively overflowing with stunning Baroque architecture and the finest Hungarian art nouveau. And, despite being surrounded by all this old splendour, both cities seem to keep getting younger and more dynamic. Nonconformist types will be thrilled by a visit to the self-confident Slovakian capital, Bratislava. While you're there, make sure you order bryndzové halušky! This national dish is made of noodles with sheep's cheese. It's simple but really good.
This is a real highlight of your Danube cruise: Vienna, the capital of Austria with that extra-special something. The locals sound as though they are singing when they speak, and it is customary for certain business owners to address their regular customers with their full title. That's just the way things are done here. With its wealth of museums, galleries, palaces and castles, plus the state opera and many theatres, the city enjoys a lively cultural scene all year-round. The Viennese are proud of their city – and rightly so!
On one bank of the Danube is hilly Buda with its Fisherman's Bastion and Castle Hill; on the other, there's flat Pest with its House of Parliament. These two beautiful districts couldn't be more different. Perhaps that's why it took until 1873 for the two cities on opposite sides of the river to merge and form Budapest.
Slovakia's capital is situated exactly at the point where the country meets Austria and Hungary. This makes it the only capital city in the world that borders more than one neighbouring country. Due to its location, Bratislava has been an ethnic melting pot since ancient times. This influence can be seen in every corner of the city.
Carriage
We offer you a possibility to park at Globus Group - Parkservice in Engelhartszell. This parking centre is about 5 minutes drive far from the port. Transfer from parking to the port is included in a price.
Prices
parking without roof:
3 night - 42 EUR
4 night - 47 EUR
5 night - 52 EUR
7 night - 68 EUR
10 night - 83 EUR
11 night - 88 EUR
16 night - 114 EUR
parking with roof:
3 noci - 47 EUR
4 noci - 56 EUR
5 nocí - 62 EUR
7 nocí - 79 EUR
10 nocí - 96 EUR
11 nocí - 101 EUR
16 nocí - 127 EUR
Prices are for guidance and only valid for private cars.
Contacts to Globus Group - Parkservice
Address:
Nibelungenstraße 130
4090 Engelhartszell
Österreich
Phone: 0049 851 989 000 168
| | | | |
| --- | --- | --- | --- |
| Day | Place | Arrival | Departure |
| 1 | Engelhartszell (Passau) | - | 17:00 |
| 2 | Vienna | 13:00 | 19:00 |
| 3 | Budapest | 12:30 | 18:30 |
| 4 | Bratislava | 12:30 | 18:00 |
| 5 | Krems | 08:00 | 08:30 |
| 5 | Melk | 12:30 | 13:00 |
| 6 | Engelhartszell (Passau) | 07:00 | - |
Click to show relevant prices. Displayed prices are for one person.
20.03.2022 - 25.03.2022
25.03.2022 - 30.03.2022
30.03.2022 - 04.04.2022
04.04.2022 - 09.04.2022
Price includes
PREMIUM - A-Rosa Select all inclusive
snack on the day of departure, rich buffet breakfast, lunch and dinner, drink package - more than 100 types of quality drinks of unlimited consumption, including alcoholic and non-alcoholic beverages (except selected brands), desserts, free use of most facilities on the ship (eg saunas, fitness centers, etc.), animation program, port and service fees, 15% discount on the use of the SPA center, transfer from the main train station to / from the ship (valid only in Germany) , WiFi, toiletries, bathrobe, water bottle / pers. / day, welcome gift and farewell gift, travel agency insurance against bankruptcy
Price does not include
transport to the place of embarkation, other optional trips, above-standard services on board (eg massages), travel insurance, personal expenses
Optional extra pay
extra pay for a single cabin 20 %
A-ROSA DONNA, BELLA, MIA, RIVA
The official language on board is German. Thus all written information are available also in English, and partly in Italian, Spanish and French on our international cruise ships.
In addition, excursions are offered in several languages. On board selected cruises the A-ROSA international host looks after the concerns of our international guests.
show more
Premium-Select all inclusive means ...
... the best way to travel.
Full board plus: Extensive breakfast, lunch and dinner
Free cabin selection: Choice of not only category but also cabin number
All-day drinks included: High-quality drinks throughout the day
Carefree arrival and departure: Transfer from / to the train station in the port city
Comfort: Spacious, modern rooms with toiletries
Stay connected while traveling: Free Wi-Fi
Children 15 years old and under travel for free!
Premium-Select all inclusive includes
Full board in the form of rich buffets
Beverage package (more than 100 types of alcoholic and non-alcoholic non-alcoholic beverages)
Small snacks during the day, occasional live cooking, midnight snacks, local and seasonal specialties
Early booking discounts
Children 15 years old or under accompanied by at least one supervising adult in same cabin travel free of charge (except Douro cruises)
Transfers from / to the station in the port city (valid for the Danube and Rhine)
WiFi connection
15% discount on SPA center treatments
1x change in booking
Free use of the on-board facilities such as sauna and fitness room
Bathroom amenities and bathrobe in the cabin
Possibility to buy served evening menus from 14.50 € / person
Selected last minute or special cruises can also be purchased in the Basic tariff. The Basic tariff only includes a buffet breakfast. Lunch and dinner can be purchased for 29 € / person. / night in case of ordering more than 7 days before departure. Less than 7 days before departure for the price of 39 € / person. / night, or 19 € / pers. / lunch and 29 € / pers. / dinner.