MINI CRUISE VIENNA & WACHAU
One ticket to Vienna and back. Along the scenic route, please.
This route is perfect for all those who have always wanted to get to know Austria: The beautiful old apricot gardens of the Wachau valley are not just a feast for the eyes during the spring blossom season. Discover the famous coffeehouse atmosphere in Vienna and the uniqueness of Austria's capital city.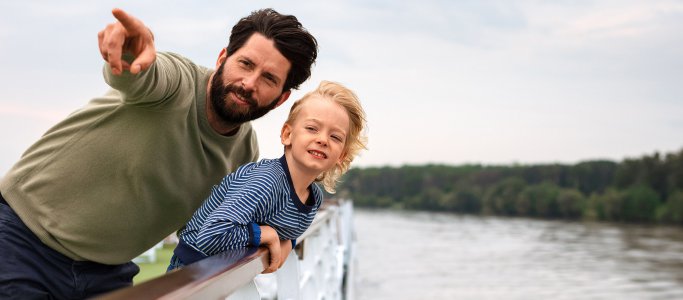 CHILD under 15 years old with at least one adult travels for FREE
It seems as if the Wachau valley made itself extra beautiful for the mighty Danube. And for you as you pass through on the A-ROSA. Spectacular cliffs beside sun-kissed vineyards, castles with tumultuous histories, and the Benedictine abbeys at Melk and Göttweig, both of which are almost 1,000 years old. There are so many beautiful sights that you hardly have time to blink. And so it is in Vienna as well. This magnificent imperial city has enough attractions to keep you busy – and amazed – for weeks. But the greatest attraction that all visitors should take away with them is the charming atmosphere of this unique city.
Vienna, the capital of Austria with that extra-special something. The locals sound as though they are singing when they speak, and it is customary for certain business owners to address their regular customers with their full title. That's just the way things are done here. With its wealth of museums, galleries, palaces and castles, plus the state opera and many theatres, the city enjoys a lively cultural scene all year-round. The Viennese are proud of their city – and rightly so!
Around 80 kilometres west of Vienna is the Wachau, a UNESCO World Heritage Site. This valley is lined with steep slopes on which some of Europe's best grape varieties grow. In the midst of all this, you'll keep spotting castles, palaces and Romantic ruins on the hills, which bear witness to a distant past. With such an enchanted landscape, it's not surprising that there are many legends about the Wachau, dealing with both mythical phenomena and real-life events, including the Napoleonic Wars. Authors such as Josef Wichner and Hans Plöckinger published collections of these legends – the ideal thing to read while you are visiting the area.
Carriage
We also offer you a possibility to park at Globus Group - Parkservice in Engelhartszell. This parking centre is about 5 minutes drive far from the port. Transfer from parking to the port is included in a price.
Prices
parking without roof:
3 night - 42 EUR
4 night - 47 EUR
5 night - 52 EUR
7 night - 68 EUR
10 night - 83 EUR
11 night - 88 EUR
16 night - 114 EUR
parking with roof:
3 noci - 47 EUR
4 noci - 56 EUR
5 nocí - 62 EUR
7 nocí - 79 EUR
10 nocí - 96 EUR
11 nocí - 101 EUR
16 nocí - 127 EUR
Prices are for guidance and only valid for private cars.
Contacts to Globus Group - Parkservice
Address:
Nibelungenstraße 130
4090 Engelhartszell
Österreich
Phone: 0049 851 989 000 168
| | | | |
| --- | --- | --- | --- |
| Day | Place | Arrival | Departure |
| 1 | Engelhartszell (Passau) | - | 17:00 |
| 2 | Vienna | 13:00 | 23:00 |
| 3 | Wachau | - | - |
| 3 | Krems | 08:00 | 08:30 |
| 3 | Melk | 12:30 | 13:00 |
| 4 | Engelhartszell (Passau) | 07:00 | - |
Click to show relevant prices. Displayed prices are for one person.
Price includes
PREMIUM - A-Rosa Select all inclusive
snack on the day of departure, rich buffet breakfast, lunch and dinner, drink package - more than 100 types of quality drinks of unlimited consumption, including alcoholic and non-alcoholic beverages (except selected brands), desserts, free use of most facilities on the ship (eg saunas, fitness centers, etc.), animation program, port and service fees, 15% discount on the use of the SPA center, transfer from the main train station to / from the ship (valid only in Germany) , WiFi, toiletries, bathrobe, water bottle / pers. / day, welcome gift and farewell gift, travel agency insurance against bankruptcy
Price does not include
transport to the place of embarkation, other optional trips, above-standard services on board (eg. massages), travel insurance, personal expenses
A-ROSA DONNA, BELLA, MIA, RIVA
The official language on board is German. Thus all written information are available also in English, and partly in Italian, Spanish and French on our international cruise ships.
In addition, excursions are offered in several languages. On board selected cruises the A-ROSA international host looks after the concerns of our international guests.
show more
Premium-Select all inclusive means ...
... the best way to travel.
Full board plus: Extensive breakfast, lunch and dinner
Free cabin selection: Choice of not only category but also cabin number
All-day drinks included: High-quality drinks throughout the day
Carefree arrival and departure: Transfer from / to the train station in the port city
Comfort: Spacious, modern rooms with toiletries
Stay connected while traveling: Free Wi-Fi
Children 15 years old and under travel for free!
Premium-Select all inclusive includes
Full board in the form of rich buffets
Beverage package (more than 100 types of alcoholic and non-alcoholic non-alcoholic beverages)
Small snacks during the day, occasional live cooking, midnight snacks, local and seasonal specialties
Early booking discounts
Children 15 years old or under accompanied by at least one supervising adult in same cabin travel free of charge (except Douro cruises)
Transfers from / to the station in the port city (valid for the Danube and Rhine)
WiFi connection
15% discount on SPA center treatments
1x change in booking
Free use of the on-board facilities such as sauna and fitness room
Bathroom amenities and bathrobe in the cabin
Possibility to buy served evening menus from 14.50 € / person
Selected last minute or special cruises can also be purchased in the Basic tariff. The Basic tariff only includes a buffet breakfast. Lunch and dinner can be purchased for 29 € / person. / night in case of ordering more than 7 days before departure. Less than 7 days before departure for the price of 39 € / person. / night, or 19 € / pers. / lunch and 29 € / pers. / dinner.