RENDEZ-VOUS ON THE SEINE WITH PARIS
Looking at Paris from the Seine will make you feel slightly proud. After all, not everyone gets this view of the world-famous metropolis. You can take your time as you enjoy an overview from here of some the city's most famous sights. This city has so much to offer that even Parisians don't manage to see everything. So it's advisable to choose carefully and give yourself plenty of time for coffee breaks, people-watching, sampling delicatessens, wandering around aimlessly and dawdling. Historical Rouen is located further north on the Seine. The stake for the 19-year-old Joan of Arc was ignited in the middle of this city in 1431. The many must-see buildings and museums will drive away any dark, shiver-inducing thoughts, however. The mighty Gothic cathedral and the oldest astronomical clock can be found in beautiful medieval surroundings. The Seine winds on through forests and rocks – as if it wants to kill time before saying goodbye to beautiful France as it enters the sea – towards Les Andelys. A town that is as charming, thriving and sunny as its name suggests. In stark contrast, the mighty ruins of the lofty citadel Château Gaillard sit atop a limestone promontory, high above the picturesque bends of the Seine. It was built in 1196 by Richard Lionheart as a defence against France. From below, it's an impressive sight; from above, it offers a fantastic view!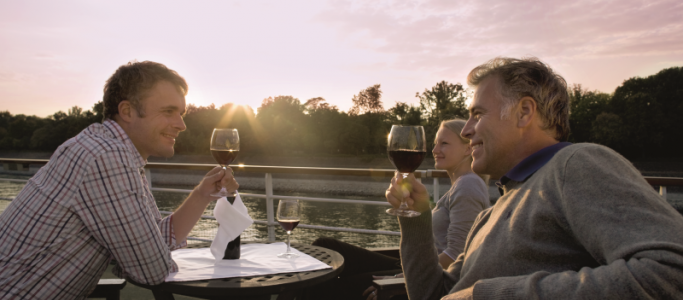 CHILD under 15 years old with at least one adult travels for FREE
We are pleased to offer international cruises on selected cruise ships. International ship on the Seine River is A-ROSA VIVA. The official languages on board international ships are both German and English and the ship announcements and all written information is provided in English. As well, our international ships are accompanied by an "International Host" who is your contact person for our international guests and responsible for making sure that you enjoy your cruise to the fullest.
You don't just visit Paris – you soak up the atmosphere. Splendid sights such as the Eiffel Tower, the Champs-Élysées, the Louvre and the Arc de Triomphe will captivate you, while twilight walks through the Marais and Montmartre are sure to inspire you. This is a place where time seems to stand still as you take in the city's grand monuments.
Enter the streets of the lovely port city of Rouen, and you'll feel as though you have travelled back through time. As you follow in the footsteps of France's national hero, Joan of Arc, you'll experience history first-hand. This is a city of art too: the cathedral served as a subject for the impressionist painter Claude Monet. Further picturesque sights in the region include abbeys and castles, which you'll spot on the shore as you glide along the Seine towards Caudebec-en-Caux.
Chalk cliffs, fairy-tale castles, ruins of castles and fortresses and apple orchards where the Calvados of the future ripens. That's what Normandy is about. Add a glass of cider and a slice of Camembert in one of the many small towns? Merveilleux!
Carriage
We are able to book a flight tickets for you. Do not hasitate to contact our office for details.
| | | | |
| --- | --- | --- | --- |
| Day | Place | Arrival | Departure |
| 1 | Paris | - | 20:00 |
| 2 | Rouen | 15:00 | - |
| 3 | Rouen | - | 22:00 |
| 4 | Vernon | 08:00 | 20:00 |
| 5 | Paris | 08:00 | - |
| 6 | Paris | - | - |
Click to show relevant prices. Displayed prices are for one person.
30.06.2022 - 05.07.2022
28.07.2022 - 02.08.2022
27.05.2023 - 01.06.2023
02.09.2023 - 07.09.2023
Price includes
PREMIUM - A-Rosa Select all inclusive
snack on the day of departure, rich buffet breakfast, lunch and dinner, drink package - more than 100 types of quality drinks of unlimited consumption, including alcoholic and non-alcoholic beverages (except selected brands), desserts, free use of most facilities on the ship (eg saunas, fitness centers, etc.), animation program, port and service fees, 15% discount on the use of the SPA center, transfer from the main train station to / from the ship (valid only in Germany) , WiFi, toiletries, bathrobe, water bottle / pers. / day, welcome gift and farewell gift, travel agency insurance against bankruptcy
Price does not include
transport to the place of embarkation, other optional trips, above-standard services on board (eg massages), travel insurance, personal expenses
Optional extra pay
extra fee for a single cabin is 25 - 35 %
A-ROSA BRAVA, VIVA, AQUA
The official language on board is German. These all written information are available also in English, and partly in Italian, Spanish and French on our international cruise ships.
In addition, excursions are offered in several languages. On board selected cruises the A-ROSA international host looks after the concerns of our international guests.
show more
Premium-Select all inclusive includes
Full board in the form of rich buffets
Beverage package (more than 100 types of alcoholic and non-alcoholic non-alcoholic beverages)
Small snacks during the day, occasional live cooking, midnight snacks, local and seasonal specialties
Early booking discounts
Children 15 years old or under accompanied by at least one supervising adult in same cabin travel free of charge (except Douro cruises)
Transfers from / to the station in the port city (valid for the Danube and Rhine)
WiFi connection
15% discount on SPA center treatments
1x change in booking
Free use of the on-board facilities such as sauna and fitness room
Bathroom amenities and bathrobe in the cabin
Possibility to buy served evening menus from 14.50 € / person
Selected last minute or special cruises can also be purchased in the Basic tariff. The Basic tariff only includes a buffet breakfast. Lunch and dinner can be purchased for 29 € / person. / night in case of ordering more than 7 days before departure. Less than 7 days before departure for the price of 39 € / person. / night, or 19 € / pers. / lunch and 29 € / pers. / dinner.